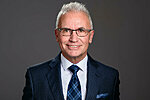 We are an Estonian company founded in 2021.




The founder of the company has many years of experience in marketing and selling quality technical products in Baltic countries such as Estonia, Latvia, and Lithuania.




The products of several manufacturers of this period continue to be bestsellers in the Baltic markets.



As the Baltic sales agency of GROTHE GmbH, we specialize in the distribution of high-quality signaling, intercom, and CCTV video surveillance systems.
Our mission:
- to offer in an excellent way engineered technical quality products in the Baltic markets to both wholesale and private customers,
- to complement products with a customer-focused, caring, and responsible sales policy and contribute to the marketing of the brands represented
Our Vision:
to become a respected and flexible customer-oriented technical product sales company
Our Values:
- Openness
- Caring
- Flexibility
- Timeliness
- Commitment