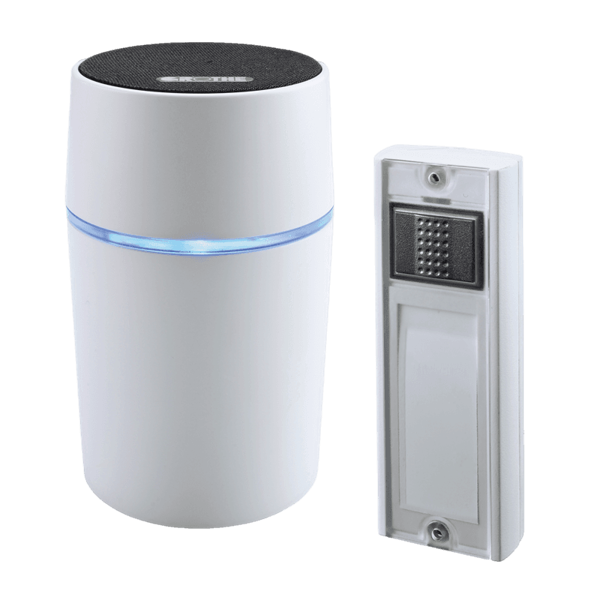 WIRELESS DOORBELLS
Usage
Ideal for easy replacement of old doorbell systems. Thanks to the long radio range, the bell button transmitter and receiver doorbell can be installed up to 500M away from each other.
Installation

The use of secure wireless communication makes it easy to install wireless doorbells. Simply attach the bell button transmitter to the door or gate, place the receiver as desired in a residential or commercial building, select the operating mode and you are ready.
ELECTRONIC DOORBELLS
Usage
With existing cabling, electronic doorbells are ideal for replacing old bell systems. Cable connections make them fail-safe.
Installation
You can get electronic doorbells if you use the existing cabling
and install them very quickly. For this purpose, the wires already in the wall are used to connect the doorbell button and the doorbell. Thanks to the simple 2-wire technology, they can also be installed quickly and easily in new buildings.
ELECTROMECHANICAL DOORBELLS
Usage
These Doorbells are classic! The Grothe two-tone doorbell with a tone lever made of genuine bell steel ensures a reliably clear and rich tone when ringing. The simple, elegant design blends seamlessly into any environment.
Installation
A doorbell with a supply voltage of 8-12 volts can be powered by a transformer. In addition, they now have an additional compartment for a 9-volt block battery or 4 x 1.5-volt BABY-CELL batteries, type LR14/C (depending on the model). Variants with 230-volt supply voltage include a transformer in the housing to save time.
FLUSH MOUNTED DOORBELLS

Usage
Recessed doorbells installed inside the switch frame fit almost invisibly into place.
Installation
Installation in the switch frame. Compatible with many well-known switch manufacturers' products.
Possibilities
Despite their minimal size, recessed doorbells have a variety of adjustable features such as melodies and volume.
ACCESSORIES
Various clock buttons and plates, motion sensors, repeaters, relays, etc.